Compass Auctions | News & Events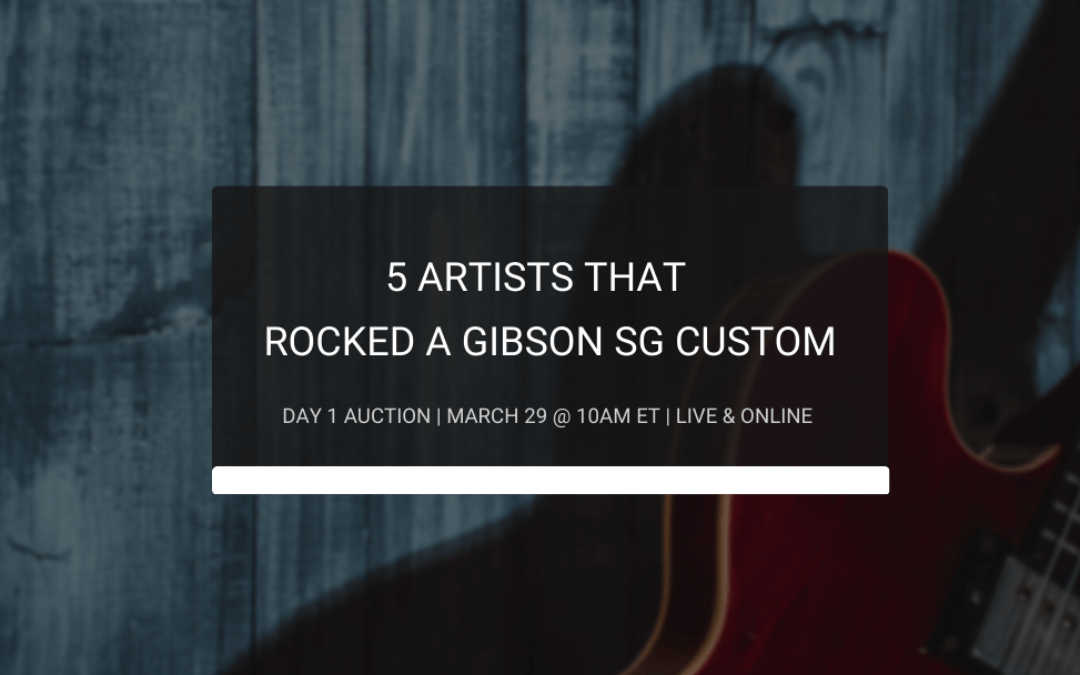 In 1960, Gibson released the Gibson SG, a lighter more affordable version of the Les Paul, to compete with Fender. The SG is recognized by its two 'horns', contoured body, and humbucker pickups. The SG's ability to belt out power chords and deliver a sweet clean tone...
Subscribe For The Latest Compass Auctions News

There is a wide range of ammo grains available in the market. The concept of grains can be kind of confusing that's why in this article, we'll take a look at what ammo grains are and why they matter.The weight of a bullet is measured in grains. When you go shopping...

The demand for electric construction equipment is on the rise as industry trends shift into sustainability and "green" building. Leading manufacturers, like CAT and Komatsu, are fully embracing electric powered equipment and have released their own lineup of...

Are you looking for high quality heavy machinery and accessories, professional grade contractor tools, or industrial rigging supplies? Look no further! We've put together a special 3-day auction with everything you need to get the job done quickly and safely. Check...

Winterizing heavy equipment will you save you some downtime when spring rolls around. It's mid-December and the coldest months are ahead of us. If you haven't already, now's the time to make sure that your equipment is properly stored. Keep reading for a checklist of...

2022 was a bumpy year for people that work in the construction industry. There were a lot of things that that effected the way you ran your business. From labor shortages to high material costs, you prevailed. Are things going to get easier next year? How much are you...

We've been bringing the heat all year long when it comes to our selection of heavy equipment, and we're not done yet! This month's Day 1 auction includes excavators, skid steers, dozers, and rollers. Check out the featured equipment lineup below. Lot 115 – 2017 New...

What Is a Crawler Carrier? The Terramac crawler carrier is a rubber tracked off road vehicle built with added torque, high traction, and low ground pressure. Crawlers were engineered to travel on uneven, steep, and wet terrains with ease while minimizing ground...
Firearms, Ammo, & Tactical

With so many brands and types of 9mm ammo available, it might be hard to choose the best ammo for self-defense. Especially if you're new to guns and don't know what to look for. Don't worry, part of what we do is educate customers so you can buy the right rounds for...

When you think of a concealed carry weapon, you might not think a Glock would be a suitable option. It's not because Glocks are bad guns, they're just too big! The Glock 43X is every Glock lover's dream. It provides the quality of the Glock brand in a size suitable...

SHOT show was held in Las Vegas this year and it did not disappoint! In this article we'll look at what the SHOT Show is, the news that came out of the event, and some new guns and tactical items we have to look forward to this year.What is SHOT show? SHOT is an...

The Winchester Model 52 was one of the most accurate rimfire rifles ever produced in America. The Model 52 was the first bolt action .22 rifle produced by the Winchester Repeating Arms Company. Only 125,419 of these classic WWI style rifles were produced between...

This limited edition SW1911 E-Series was designed to commemorate the Greek God of the Sea, Poseidon. Poseidon was known to be hot-headed and would often lose his temper which caused earthquakes and tsunamis.Gun Design The slide, frame, and grip have been engraved with...

Are you looking for new services to offer your customers? Consider custom reloading services. There are a lot of revenue streams you can add to your business when you learn reloading. You'll be able to recycle empty cases during a shortage and load calibers that are...

Still looking for your dream home? Well, look no further! This luxury barndominium is outfitted with simple, rustic features – including vaulted ceilings, barn doors, hardwood floors and feature walls, and a classic metal roof – that will make you feel right at...

Friday Night Lights, we welcome you back graciously. With Football Season in full swing, keeping up with each and every schedule can be a hassle. To make things easier, we put together a list of a few local and professional football teams' schedules....

Chattanooga couldn't get any more beautiful in the fall time. During this season, the Scenic City is filled with gorgeous colors, fun festivals, and more. Whether you're looking for local shopping, outdoor experiences, or spooktacular events, our list of the "Best...

Harley Davidson started in a wooden backyard shack in 1903 and is now one of the largest motorcycle manufacturers in the world. The brand was founded by William Harley, William Davidson, Arthur Davidson, and Walter Davidson with the mission of creating motorized...

Municipal vehicle auctions are a great place to get a new to you vehicle without breaking the bank. If you're looking for a good deal on a reliable used vehicle, you're in the right place! Check out the cars we have available in our upcoming Day 1 Auction down below....

The Chevrolet M1009 CUCV is a favorite among outdoorsmen and military vehicle enthusiasts. This bad boy was built to navigate tough terrain and tow heavy loads. What makes this seemingly ordinary SUV so special? Let's find out.What Is A CUCV? The Commercial Utility...